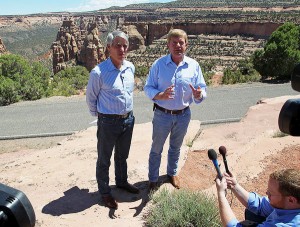 Measure to upgrade monument to park may come in January:
Article re-printed with  thanks to reporter Gary Harmon  and permission from the Grand Junction Daily Sentinel
By Gary Harmon
Legislation to upgrade Colorado National Monument to a national park could be  introduced as soon as January, supporters of the move said Tuesday, hailing the prospect as a much needed economic boon.   "We could be a shining star" in the regional economic picture iwth the prosepect of a national park overlooking the Grand Valley, said Theresa High, owner of High Country Orchards and Colterris winery, both in Palisade.
With the prospect ofa bill approaching, High and Terri Chappell urged the Grand Junction Visitor and Convention Bureau board on Wednesday to gather support fromt he tourism industry for the effort.  Chappell ticked off a series of bleak economic indicators for the Grand Valley, highlighting a finding that 49 percent of respondents to a Grand Junction Area Chamber of Commerce survey said they didn't anticipate economic improvements before 2015.
Promoting the 20-thousand acre Colorado National Monument to a national park could reverse much of that pessimism, Chappell said.
U.S. Rep. Scott Tipton,  R-Colo., and U.S. Sen. Mark Udall, D-Colo., this summer appointed a five member committee to draft a bill and that committee's work is nearly done, Chappell said.
"When people in our town hear the detail (in the bill) they're going to be extremely gratified by the work of the committee, "  Chappell said.
Glade Park access was a sticking point residents voiced amid fears that national park status could jeaopardize their ability to use Rim Rock Drive to reach DS Road from the east entrance of the park.
Congressional sources said the staffs of Tipton and Udall are to get together this week to discuss the measure.
With the prospect of a bill approaching, tourism and travel promotin organizations need only to be notified to gear up support for the bill, Barbara Bowman, manager of teh VCB, said.  "They will step forward on our behalf.".  Bowman said.