A shortened version of the following editorial by Michael O' Boyle  ran in the Daily Sentinel Tuesday, June 11, 2013 and is reprinted here in full with the publisher's permission.  O'Boyle helped lead a small contingent of Grand Valley residents on a monumental quest to properly commemorate John Otto and his devotion to our red rock canyons.   A July 2008  "Fencepost" article by Margaret Melloy Guziak described it this way:
"
"In 2002, Michael O'Boyle, a local resident, a long-time admirer of John Otto, and owner of "Eagletree Tours", conceived the idea of scheduling a trip to the California cemetery to honor Otto 50 years after his death. Dave Fishell and Mike got the support of the NPS, the CO National Monument Assn and several other local businesses to raise money for a marker for Otto's grave. The trip was a "GO".
Lyle Nichols, local prominent artist, located a 3′ x 3′ x 9′, 700 pound Lyons sandstone, shaped like the Independence Rock, for the top. The 3,400 pound, Precambrian stone, for the base was trucked from Escalante Canyon to Nichols' art residence, where he shaped it into 5′ x 2.5′ x 2′ tall size. It was important to everyone that it be made from Colorado rocks that were part of the canyons Otto loved the most.
 "We wanted to give tribute to this American hero and what he represents and to increase the awareness of the Colorado National Monument. We wanted to thank John for giving us the Colorado National Monument."  "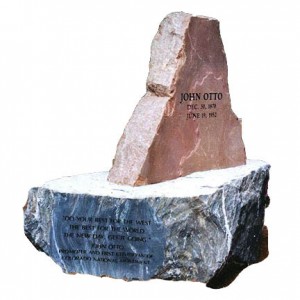 June 11, 2013 Editorial
DO SOMETHING MONUMENTAL OR DO NOTHING
Well, here we are, citizens of Mesa County at the crossroads faced with another decision. Do we make Colorado National Monument a national park or not?   Over a hundred years ago John Otto made his decision. One of his famous quotes says it all, "I came here and found these canyons, and they feel like the heart of the world to me.  I'm going to stay and build trails and promote this place, because it should be a national park."   Otto was a man of his word. He stayed for about 20 years and built trails and promoted the place while basically volunteering his services as the Monument's first custodian.
So, we know for sure Otto believed it should be a national park. I believe it should be a national park and there are plenty of others who feel the same way.  According to Scott Tipton, at his recent town hall meeting in Grand Junction, a third of the public thinks it should be a national park, a third thinks it should be left as is and a third don't know.  If the third that don't know just don't care, that's as good as saying leave it as is.
If you don't know but DO care, PLEASE get involved. Start reading and researching. Ask questions, study the facts and talk with others about the pro's and con's.  It would be a real shame if this legislation failed because a third of the people just didn't care.  John Otto would turn over in his grave.
Twenty some years ago a group of local citizens looked at the Colorado River running through town and said "Let's clean up the river, let's clean up all the junk along the banks and make it a nice place".   Many people said,  " Oh, that's impossible, way too monumental of a project." Visitors driving in from the South would cross the bridge over the Colorado River and say, "Hey, we made it to Grand Junkyard!"  Thanks to those citizens with vision (now called the Grand Junction and Mesa County River Front Commission) visitors don't say that anymore.
Back in the early 90's mountain bikers from the Eastern Slope would drive 6 hours to ride the world class trails in Moab. They would reach the Grand Valley and say, " Hey, we're in Bland Junction, only 2 hours to Moab".   Then a group of bicycle people from Fruita said "Hey, let's compete with Moab. We have just as much great terrain as they do".   Many people, including myself said, "Oh that's impossible, way too monumental of a project. We will never compete with Moab"   Now, thanks to the vision of those fat tire gear heads, working with the BLM and the local townships, riders from the Eastern Slope drive only 4 hours and enjoy the world class trails right here in the Grand Valley.
Are we proud of our riverfront corridor and the network of mountain bike trails around the Grand Valley?   You bet we are!   Was the effort to create these things worth it?  Without a doubt!   Who is against the cultural and economic benefits that we receive from these two particular projects?    Opponents to the national park effort site traffic problems.  So, are we opposed to JUCO and Country Jam?   Should we never build another subdivision because more people will move in and traffic will increase?
If the Monument is made a national park, it will join an elite family of other world class parks in the vicinity.   We will be at the crossroads of Black Canyon and Mesa Verde to the South and Arches & Canyonlands to the West.  It will be a source of pride and good will in our community and it will contribute to a strong and diverse economy.     It is up to us, we can do something monumental or we can do nothing.
Michael O'Boyle